One of my favorite ways to get outfit inspiration is of course, Pinterest! Problem is, I Pin a zillion things and follow through on one or two! This is why I love these Pinned It & Did It posts! It forces me to go back through my pins and find ones I have been dying to try.
Here is one of my VERY first pins--one of the first Fall outfits I pinned when I first opened my Pinterest account a year or two ago!
I have LOVED the fur vest (I love vests of any kind...more on that tomorrow!!) but I know it's a trend and I typically am very cautious when I purchase "trendy items." I will wait a season or two to see if the trend sticks or goes away because the last thing I want is a closet of things I can't wear.
So I am going to lay it all out about the backstory of this vest ~ First, it's a kid's vest (Justice!!!). Next, I found it at a kids consignment store! The best part was, it was $7. I figured $7 wasn't bad to "try the trend."
Will I splurge for a more expensive version? Probably not. Fur vests can go bad really quick if you don't get the "right" one and you can end up looking like you had a dead animal draped around you. So the ones I have found and actually LIKED are pretty pricey. There are other more classic pieces I want to spend my money on (AKA: The Blardigan)!!
Verdict: Consignment stores and the kid's section work well for me when trying trendy items!!! :)
Here are some of the fur vests I like where the "dead-animal-look" factor is low :)
Time to link up! Don't forget to use the hashtag #lovelylittlealamode on social media!
Hosted by ~
Each week we choose a favorite...check out
Carrie
and
Whitney's
blogs to see if it's you! My favorite look this week was Hilary from
EmbellishMINTS.
I am a sucker for cobalt and stripes and she wears both PERFECTLY. Read her entire post
HERE.
Now let's get linking! We like to keep things simple around here. Just link up your favorite posts--fashion, beauty, food, DIY, anything goes! Follow your hosts on social media, have fun and be inspired! Thanks for linking up!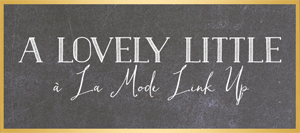 <a href="http://www.alittlebitofcheer.com" target="_blank"><img src="http://i1212.photobucket.com/albums/cc454/pianoprincessdesigns/button%20small_zpsujefyz2q.png~original" alt="A Lovely Little À La Mode Link Up" width="125" height="125" /></a>
Don't forget to follow
A Little Bit of Cheer
on Facebook
HERE
Follow me on Instagram
HERE
Follow any of my boards on Pinterest
HERE
Follow me on Bloglovin'
HERE
See where I link up
HERE